Marion Bartoli (born October 2, 1984) is a French professional tennis player and the current French No. 1. She has won five Women's Tennis Association titles, and was runner-up at the 2007 Wimbledon Championships.
Marion Bartoli Kiss the Cup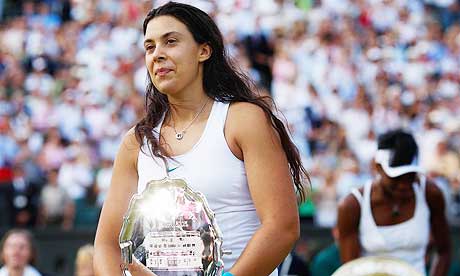 Marion Bartoli is a very consistent player on the tour and had a year-end ranking inside the top 50 from 2004 to 2010 and a year-end ranking in the top 20 from 2006 to 2010. Bartoli is currently ranked World No. 16.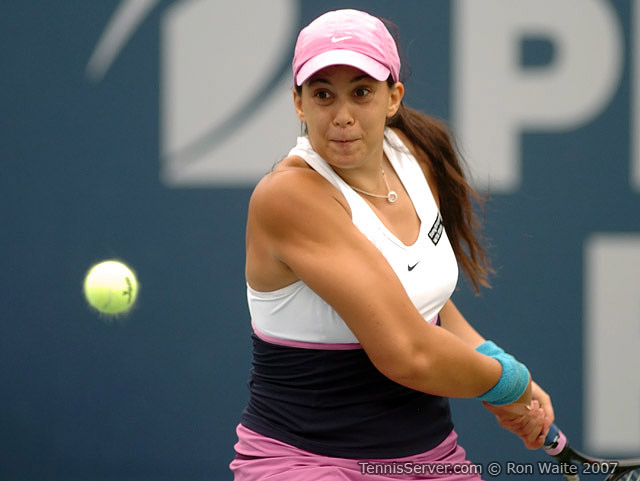 Bartoli has been as high as No.9 in the world and ended the 2007 season as a top 10 player, at number 10.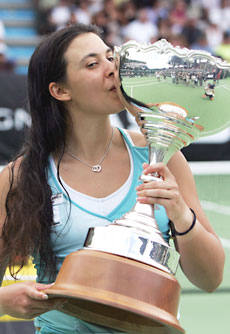 Bartoli has defeated two reigning World No.1 players in her career so far. She defeated Justine Henin in the semi-final of the 2007 Wimbledon Championships 1–6, 7–5, 6–1 and she defeated Jelena Janković in the fourth round of the 2009 Australian Open 6–1, 6–4. She has also recorded wins over former World No. 1s Venus Williams, Ana Ivanović, Lindsay Davenport, Arantxa Sánchez Vicario and Dinara Safina as well as many top 5 and top 10 players.
Marion Bartoli Serious Expression
She is known for being one of only a handful of players in the Top 100 on the WTA Tour who play holding the racquet with two hands on both sides. The other players being Peng Shuai, Lucie Hradecka, Arantxa Parra Santonja, Ayumi Morita and Monica Niculescu.
Marion Bartoli Shooting the Ball
Bartoli started her year as the 11th seed at the 2010 Australian Open, she defeated Rossana de los Ríos in the first round 6–4, 6–1. In the second round she defeated Sandra Záhlavová 6–4, 6–4. In the third round she lost to unseeded and eventual semi-finalist Zheng Jie 5–7, 6–3, 6–0, ending her hopes of reaching the quarter-finals again this year.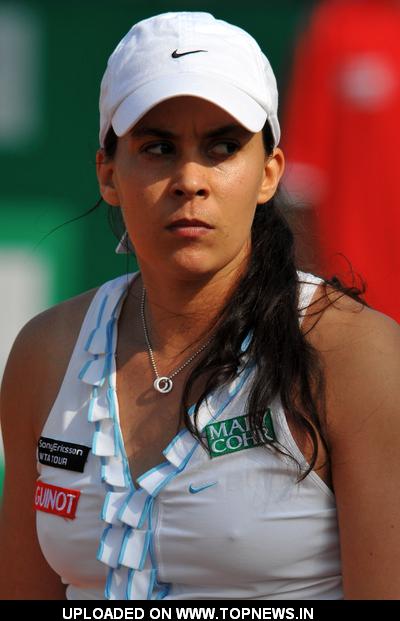 Marion Bartoli Angry Expression
Bartoli will kick off her 2011 season on January 2nd with an appearance at the 2011 Brisbane International. She will be seeded 4th. She will then make a debut appearance at the 2011 Moorilla Hobart International as the top seed before flying to Melbourne to compete at the 2011 Australian Open Grand Slam.
Marion Bartoli Casual Clothes