James Riley Blake (born December 28, 1979) is an American professional tennis player and currently the tenth-highest ranked American man (No. 138 in the world as of November 22, 2010). Blake is known for his speed and powerful, flat forehand. He is currently ninth among active male players with 24 career finals appearances (10-14 record). His career highlights including reaching the final of the 2006 Tennis Masters Cup, the semifinals of the Beijing Olympics and the quarterfinals of the Australian Open (2008) and U.S. Open (2005, 2006). He also was a key performer for the United States 2007 Davis Cup championship team, going 2-0 in the championship tie vs. Russia at second singles. In 2005, Blake was presented with the Comeback Player of the Year award for his remarkable return to the tour. Later, in 2008, Blake was awarded another honor by the ATP where he was named the Arthur Ashe Humanitarian of the Year. On July 3, 2007, Blake's autobiography Breaking Back: How I Lost Everything and Won Back My Life, which discussed his comeback after his unlucky 2004 season, was released and debuted at Number 22 on the New York Times Best Seller list. He co-wrote this book with Andrew Friedman. Blake was born in Yonkers, New York to an African American father Thomas Reynolds Blake and a British mother Betty Blake. He has a brother Thomas, who is also a professional tennis player, and three older half-brothers: Jason, Christopher and Howard, and a half-sister Michelle.
Blake started playing tennis at age five alongside his brother Thomas. When he was 13 he was diagnosed with severe scoliosis and for five years as a teenager he was forced to wear a full-length back brace for 18 hours a day, though not while playing tennis. Blake attended Fairfield High School in Fairfield, Connecticut, where a schoolmate and childhood friend was future musician John Mayer. Blake was inspired to pursue tennis after hearing his role model Arthur Ashe speak to the Harlem Junior Tennis Program. Brian Barker was his first (and longtime) coach. He left Harvard University after his sophomore year to pursue a career in professional tennis.Blake's style of play is primarily that of an aggressive offensive baseliner. He generally prefers to hit winners from the baseline, but his solid net volley and transition game give him an effective all-court game. His forehand (along with Del Potro and Fernando Gonzalez) is considered to be one of the best in the game. However, his one-handed backhand is known to be suspect. Another major strength is his great foot speed. Blake tends to return serves (especially second serves) with great pace, and also makes contact with the ball earlier (on the uprise) when hitting ground strokes. Combined with his relatively flat strokes, these techniques (despite being riskier in terms of making errors) allow him to put more pace on the ball, giving opponents less time to react. Blake likes to take control of points and will usually attempt to hit an outright winner earlier in the rally than many others. He is known as a shot maker. His go-for-broke style makes him one of the most entertaining players on the tour, though somewhat inconsistent. Since hiring new coach and doubles specialist Kelly Jones, Blake has begun to incorporate more serve and volley play into his game.
Video from James Blake

At the age of 21, Blake saw his first Davis Cup action in 2001 against India and became the third person of African-American heritage to play for the Davis Cup for the United States (after Arthur Ashe and MaliVai Washington). Ranked No. 120 in the world, Blake accepted a wild card into AMS Cincinnati. He beat a qualifier and Arnaud Clément to reach the round of 16 where he met Patrick Rafter. Blake came close to winning the first set (falling in a tiebreak), and after dropping the second set, Rafter, according to Blake's autobiography, complimented him at the net and boosted his confidence immeasurably by saying "Now do you believe you can beat someone like me, or even me?" In January, Blake won the 2002 USTA Waikola Challenger in Hawaii. A month later in Memphis he posted his first win over a top-ten ranked opponent, Tommy Haas, who was then ranked fifth, and reached the finals, losing to Andy Roddick. He reached the quarterfinals at the ATP Masters Series (AMS) event in Rome in May and the finals at Newport in July. In August, in Cincinnati, he won his first career ATP Tour title and his first ATP Masters Series title: it came in doubles with Todd Martin, making Blake the first African-American male to win a title of any kind in Cincinnati's 101-year history. He was also the first African-American to reach a final in Cincinnati since 1969 when Arthur Ashe reached the doubles finals with Charlie Pasarell. The next week in Washington, he won his first ATP Tour singles title, beating Andre Agassi in the semifinals and Paradorn Srichaphan in the final.
At the U.S. Open, he reached the third round before falling to top-ranked Lleyton Hewitt in five sets. In 2003 his best results were a quarterfinals at AMS Indian Wells; a Round of 16 finish at the Australian Open, AMS Cincinnati and AMS Miami; a semifinal appearance at San Jose and a finals appearance at Long Island. While practicing with Robby Ginepri for the Masters event in Rome, he broke his neck when he slipped on the clay and collided with the net post. In July his father died as a result of stomach cancer. At the same time Blake developed shingles, which temporarily paralyzed half his face and blurred his sight. Blake's injuries and personal issues caused him to post relatively poor results for the first half of 2005. By April his ranking was 210. He decided to play the Challenger circuit, the "minor leagues" of tennis, in order to gain confidence and get more matches. In May he entered events in Tunica, Mississippi and Forest Hills, New York, winning both. He rejoined the ATP circuit and by August reached the final at the International Series event in Washington, D.C. where he fell to Roddick. He was given a wild card into AMS Cincinnati, drawing Federer in the first round. He then won the Pilot Pen Tennis tournament in New Haven, Connecticut, defeating Feliciano López in the final. After New Haven he was ranked 49. He then accepted a wildcard into the US Open, defeating No. 2 Rafael Nadal 6-4, 4-6, 6-3, 6-1 in the round of 32. He beat Tommy Robredo in four sets to reach the quarterfinals, succumbing to Andre Agassi in a fifth-set tiebreak, losing 3–6, 3–6, 6–3, 6–3, 7–6 (6). In October at the Stockholm Open, Blake won his third ATP tour title, defeating Srichaphan in the final. Blake finished 2005 ranking 22.
Blake won the title at Sydney, taking his fourth ATP tour title defeating Russian Igor Andreev in the final. At the Australian Open he was seeded twentieth, losing in the third round to Spaniard Tommy Robredo. He broke into the Top 20 for the first time in his career. In March he beat Hewitt in the final at Las Vegas for his fifth ATP tour title. At the first AMS event of the year Indian Wells, Blake defeated Robredo in the third round and world No. 2 Nadal in the semifinals, reaching his first career ATP Masters Series singles final, losing in the final to Federer. By reaching the final, Blake became the first African-American man since Arthur Ashe to reach the world's top 10. On clay, Blake defeated former world No. 1 Carlos Moyà in the first round at AMS Hamburg before losing to Mario Ančić in the third round. At the French Open he defeated Spaniard Nicolás Almagro in four sets in the second round, to become the last remaining American man at the French, then was beaten by Frenchman Gaël Monfils in five sets. Beginning the grass court season at the Stella Artois Championships, he defeated Andy Roddick in the semifinals, losing to Lleyton Hewitt in the final. At Wimbledon, Blake progressed to the third round but lost to Max Mirnyi in five sets. Now ranked No. 5, Blake's next tournament was the International Series at Indianapolis. He won the singles title, defeating Roddick (for the second time in 2006). In Washington, D.C. he lost in the third round to Marat Safin and in New Haven in the first round to Rubén Ramírez Hidalgo. At AMS Canada he fell to Richard Gasquet (who would reach the final that week before losing to Roger Federer). At AMS Cincinnati he lost to Juan Carlos Ferrero (who lost in the final to Andy Roddick).
At the 2008 Pacific Life Open, Blake, the ninth seed, received a "bye" in the first round, before defeating Marc Gicquel 6–3, 6–7(5), 6–1 in the second round. In the third round, Blake beat former World Number 1 Carlos Moyà 6–3, 6–4. He then defeated Frenchman Richard Gasquet in the fourth round in straight sets 6–4, 6–2, before losing to Rafael Nadal in the quarterfinals 5–7, 6–3, 3–6. At the 2008 Miami Masters, Blake reached the quarter-finals, but again lost to Rafael Nadal in three sets (6-3, 3-6, 1-6). In Davis Cup, Team USA played France. Unfortunately for France, they were missing two of their best players, Richard Gasquet and Jo Wilfried Tsonga due to injuries. So Michaël Llodra and Paul-Henri Mathieu were the players playing singles for France. After Andy Roddick defeated Llodra, James would play Mathieu. James won in a three-hour, 48-minute, five-set match against the Frenchman, 7–6, 6–7, 6–3, 3–6, 7–5. He had to save two match points to defeat the number 12 Mathieu. Blake then started the clay court season at the River Oaks International tournament in Houston, Texas. He defeated Kei Nishikori in the first round (6–4, 6–4), 15-year-old Ryan Harrison in the second round, No. 5 seed Agustín Calleri of Argentina in the quarterfinals, and Oscar Hernández of Spain in the semifinals (6–3, 7–6(3)). In his second ATP final of the year and his first career clay-court final, Blake fell to Spaniard Marcel Granollers Pujol, 4–6, 6–1, 5–7. James received a wild card to play in the clay tournament in Barcelona, Spain. However, he lost in the first round to German Denis Gremelmayr in straight sets. Looking for a better performance on clay, James played in the Master Series tournament in Rome. He received a bye in the first round. In the second round, he faced Italian hopeful Andreas Seppi. James won in three sets 7–6, 3–6, 6–1. In the third round, he faced Spaniard Fernando Verdasco. He won in three sets 5–7, 7–5, 6–2. His run was ended in the quarterfinals by Stanislas Wawrinka of Switzerland in three sets 7-6, 6-7, 1-6. At the French, he made it to the second round before being defeated by Ernests Gulbis in four sets. He fared no better at Wimbledon, losing in the 2nd round to the resurgent semi-finalist Rainer Schüttler in five sets, 3-6, 7-6(8), 6-4, 4-6, 4-6.
Blake then played at the 2009 Estoril Open. Blake recorded his first clay-court win of the 2009 ATP World Tour season, earning a confidence-boosting 5-7, 6-4, 6-2 win over Portugal's highest-ever ranked player Frederico Gil. Blake, who improved to 10-8 on the year, next defeated France's Marc Gicquel in the second round 7-6(6), 6-2 and Florent Serra 6-4, 6-1 in the third. Blake advanced to his first clay-court final on European soil on Sunday, after beating second seed and former Estoril Open champion Nikolay Davydenko 6-7(3), 7-6(2), 6-3 in a rain-interrupted semi-final that was carried over due to bad light. Blake won the first and fifth points against serve, courtesy of a Davydenko backhand error and then a forehand volley winner on approach to the net. He quickly opened up a 6-2 lead and won the second set when Davydenko hit a backhand wide. Davydenko managed to save one break point at 15-40 in the fourth game of the third set, with a couple of clever forehands that left Blake stretching outside the tramlines, but the 2003 titlist and 2006 and 2008 runner-up was unable to win the second break point as Blake secured a 3-1 lead. Davydenko almost broke back in the next game, but Blake produced his A-game hitting a cross-court forehand winner on approach to the net that left Davydenko flailing. At 1-4, the World No. 11 found himself 0-40 down but won five straight points – closing out with successive forehand winners. Blake made it 5-2 with successive aces and, minutes later, booked a spot in his 23rd ATP World Tour final (10-12 record) with a service hold to 30. Blake extended his winning streak to 7-0 over Davydenko, in the pair's first clay-court meeting that last two hours and 26 minutes. Blake was defeated by Spain's Albert Montañés later that day in the finals. The 28-year-old Montanes saved two match points at 4-5 in the second set and fought back to beat fourth-seeded Blake 5-7, 7-6(6), 6-0 in two hours and 14 minutes. Blake fought off one break point for a 5-4 lead, before setting up two championship points on the Montanes serve at 15-40. Blake squandered the first point with a backhand return long of the baseline and the second point went begging when he committed a backhand error. Blake dropped to 12-9 on the 2009 ATP World Tour season. Blake was attempting to become the first American to win a clay-court title since Mardy Fish at Houston in April 2006 and the first American to win on European clay since his Davis Cup team mate Andy Roddick lifted the St. Poelten trophy in May 2003. At the 2009 French Open, Blake lost in the first round to qualifier Leonardo Mayer 7-6 7-5 6-2.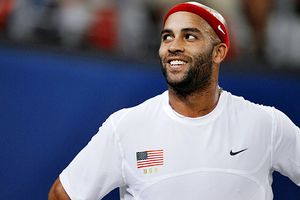 Blake started his 2010 campaign at the Brisbane International in Australia. Blake came back from a set down to top fifth seeded American Sam Querrey 4-6, 6-3, 6-4. He then defeated Frenchman Marc Gicquel 6-3, 3-6, 7-6(8), surviving three match points in the deciding set tiebreak to make the quarter-finals. There Blake lost to Gaël Monfils 6-3, 3-6, 4-6. Blake was also entered in the men's double draw with Andy Roddick. The duo defeated fourth seeds Marcelo Melo and Bruno Soares on the way to the semifinals before losing a heartbreaker to eventual champions Jérémy Chardy and Marc Gicquel 4-6, 6-3, 11-13. At the 2010 Australian Open Blake defeated French veteran Arnaud Clément 7-5, 7-5, 6-2 in the first round. He then faced fourth seed and U.S. Open champion Juan Martín del Potro in the second round, losing a classic in five grueling sets 4-6, 7-6(3), 7-5, 3-6, 8-10. Blake then lost in the opening round at the 2010 ABN AMRO World Tennis Tournament against a former Australian Open finalist Marcos Baghdatis 4-6, 2-6. In the first round of the Regions Morgan Keegan Championships in Memphis, Blake fell to top-seeded American counterpart Andy Roddick 3-6, 6-4, 6-7(3). At the Delray Beach International Tennis Championships, No. 7 seed Blake won consecutive matches for the second time in 2010, topping fellow American Taylor Dent 6-1, 3-6, 6-3 and the Dutchman Robin Haase 6-3, 6-1. Blake was eliminated in the quarterfinals by 2nd seed Ivo Karlović 3-6, 7-6(5), 1-6. Blake returned to action for the third consecutive tournament on American soil at the first Masters event of the year, 2010 BNP Paribas Open at Indian Wells, California. An unseeded Blake advanced to the round of 64 with a quick win over Daniel Gimeno-Traver 6-3, 6-2. He then advanced to the Round of 32 with his most impressive win of the season to that point, a 6-1, 6-4 destruction of 13th seed David Ferrer. In the Round of 32, Blake lost a disappointing match to Spain's Nicolás Almagro 4-6, 6-3, 3-6. The loss dropped Blake's three set record to 3-4 on the year. Blake also played in the doubles draw, teaming with Andy Roddick to reach the Round of 16 where the American duo fell to top-seeded Daniel Nestor and Nenad Zimonjić 4-6, 6-3, 7-10. At the 2010 Sony Ericsson Open in Miami, Blake defeated Serbian wildcard Filip Krajinović in three sets, (6)6-7, 6-4, 6-4 to advance to the Round of 64. In the second round, he lost to 27th seed Thomaz Bellucci 6-3, 1-6, 2-6. In July 2010, Blake played for the Boston Lobsters of the World TeamTennis pro league.