Monica Seles (born December 2, 1973) is a former World No. 1 professional tennis player and a member of the International Tennis Hall of Fame. She was born in Novi Sad, Serbia, former Yugoslavia to Hungarian parents. She became a naturalized United States citizen in 1994 and also received Hungarian citizenship in June 2007. She won nine Grand Slam singles titles, winning eight of them while a citizen of Yugoslavia and one while a citizen of the United States. She became the youngest-ever champion at the 1990 French Open at the age of 16. She was the World No. 1 player in the women's game during 1991 and 1992, but in 1993 she was forced out of the sport for more than two years following an on-court attack in which a man stabbed her in the back with a 9-inch-long knife. She enjoyed some success after returning to the tour in 1995, including a Grand Slam singles title at the 1996 Australian Open, but was unable consistently to reproduce her best form. Seles played her last professional match at the 2003 French Open, but her official retirement announcement was not issued until February 2008. Seles was born in Novi Sad, Vojvodina, Serbia in an ethnic Hungarian family. Her parents' names are Eszter and Károly and she has an older brother, Zoltán. When she entered the sport she began playing tennis at the age of five, coached by her father. Károly Szeles, who was a professional cartoonist, drew pictures for her to make her tennis more fun. He is also responsible for developing her two-handed style for both the forehand and backhand. In 1985 at the age of 11, she won the Orange Bowl tournament in Miami, Florida, and caught the attention of tennis coach Nick Bollettieri. In 1986, the Seles family moved from SFR Yugoslavia to the United States, and Seles enrolled at the Nick Bollettieri Tennis Academy, where she trained for two years. Seles played her first professional tournament in 1988 at the age of 14. The following year, she joined the professional tour full-time and won her first career title at Houston in May 1989, where she beat the soon-to-be-retired Chris Evert in the final. A month later, Seles reached the semifinals of her first Grand Slam singles tournament at the French Open, where she lost to World No. 1 Steffi Graf, 6–3, 3–6, 6–3. Seles finished her first year on the tour ranked World No. 6.
Monica Seles Vs Justine Henin
Seles was listed as the 13th greatest player of all time (men and women) by (U.S.) Tennis magazine and was also one of 15 women named by Australian Tennis magazine as the greatest champions of the last 30 years (players were listed chronologically). Seles's career was affected by the stabbing incident; her trajectory was indicative of continuing future greatness. During the height of her career (1990 French Open through the 1993 Australian Open), she won 8 of the 11 Grand Slam singles tournaments she contested. Until her loss to Martina Hingis at the 1999 Australian Open, Seles had a perfect record at the event (33–0), which is the longest undefeated streak for this tournament (although Margaret Court won 38 consecutive matches there from 1960 to 1968 after losing a match in 1959). It also marked her first defeat in Australia, having won the Sydney tournament in 1996. Seles was the first female tennis player to win her first six Grand Slam singles finals: 1990 French Open, 1991 Australian Open, 1991 French Open, 1991 US Open, 1992 Australian Open, and 1992 French Open. Seles was also the first female player since Hilde Krahwinkel Sperling in 1937 to win the women's singles title three consecutive years at the French Open. (Chris Evert, however, won the title the four consecutive times she played the tournament: 1974, 1975, 1979, and 1980; in 2007, Justine Henin won her third consecutive French Open singles title.) With eight Grand Slam singles titles before her 20th birthday, Seles holds the record for most Grand Slam singles titles won as a teenager.
Shortly after her retirement, Sports Illustrated writer Jon Wertheim summed up her later career:
"Yet, transformed from champion to tragedienne, Seles became far more popular than she was while winning all those titles. It became impossible to root against her. At first, out of sympathy. Then, because she revealed herself to be so thoroughly thoughtful, graceful, dignified. When she quietly announced her retirement last week at age 34, she exited as perhaps the most adored figure in the sport's history. As happy endings go, one could do worse."
Seles was a popular player, winning the inaugural Sanex Hero of the Year award in 2002. This award was voted by fans around the world. She was elected to the International Tennis Hall of Fame in 2009.
Monica Seles With Dance Costume Looks Gratefully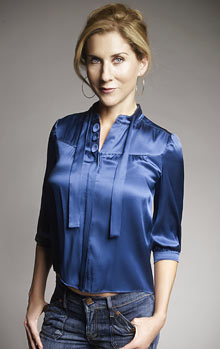 Monica Seles is the Goodwill Ambassador of IIMSAM, the Intergovernmental Institution for the use of Micro-algae Spirulina Against Malnutrition (IIMSAM) where she joins people like Diego Maradona, Tushar Gandhi, Sanjay Dutt, Carolina Herrera and Barack Obama's family to make Spirulina, a key driver to eradicate malnutrition, achieve food security and bridge the health divide in order to secure the United Nations Millennium Development Goals with a special priority for the developing and the least developed countries.On April 21, 2009, Seles released her memoir Getting A Grip: On My Body, My Mind, My Self which chronicles her bout with depression and food addiction after her stabbing, her father's cancer diagnosis and eventual death, her journey back to the game and a life beyond tennis. Monica Seles was featured on the covers of different magazines like Tennis, Humo and Radio Times. She also did print ads for the "Got Milk?" campaign of America's Dairy Producer. Seles also became an endorser of Fila athletic wear. The U.S. Tennis magazine named her the 13th greatest player of all-time, while the Australian Tennis magazine lists her as one of the 15 greatest women champions in the last 30 years. In 2007, Seles was chosen as Goodwill Ambassador and Spokesperson for the Global Sports for Peace and Development Programme Initiative of the Intergovernmental Institution for the use of Micro-algae Spirulina Against Malnutrition or IIMSAM. In February 2008, she officially retired from the game. Monica Seles is a celebrity contestant on season 6 of ABC's reality series Dancing with the Stars. She is paired with professional dancer Jonathan Roberts.