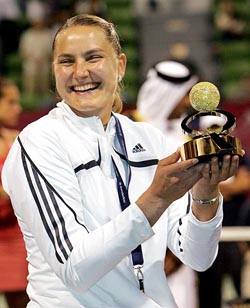 Nadezhda (abbr. Nadia) Petrova (born June 8, 1982 in Moscow, Soviet Union) is a Russian professional tennis player.
Overall, she has won 27 WTA Titles, nine in singles and eighteen in doubles. In singles, Petrova has reached a career high ranking of World No. 3 in May 2006 and has reached the semi-finals of the French Open in 2003 and 2005. In doubles, she won the year-ending Sony Ericsson Championships in 2004 with Meghann Shaughnessy. As of 25 October 2010 (2010 -10-25)[update], Petrova is ranked World No. 15 in singles and World No. 11 in doubles.

Petrova was born in Moscow. Her parents were both very athletic – her father Viktor was a leading hammer thrower, while her mother Nadezhda Ilyina won a bronze medal at the 1976 Montreal Olympics in the 400 meter relay. Both her parents are still athletics coaches. As a child, Nadia did a lot of travelling around the world with her parents. She eventually settled in Egypt, where she trained with Mohammed Seif and her parents. Petrova states hard courts as her favourite surface, however, she has been most successful on clay courts. She is currently coached by Vladimir PlatenikPetrova is an all-court aggressive player who is capable of hitting winners off both wings, but particularly off her back-hand which is considered to be one of the best in the women's game and which she is capable of hitting flat and with slice. Petrova's serve is considered her biggest asset and is one of the strongest on the women's tour along with the Williams Sisters and Samantha Stosur. In 2009 she hit the second most aces on the tour with 306, just behind Serena Williams and won over 72% of her service games. As an accomplished doubles player, Petrova's volleying skills are considered exceptional and she is not afraid to come into the net to finish off points. Petrova's main weakness is her movement around the court as she is often slow to retrieve balls and can sometimes struggle to defend well during rallies. Also, her forehand is sometimes erratic and can produce many unforced errors. Petrova states hard courts as her preferred surface, however, she has been most successful on clay courts where she can dictate play easier.

As a junior, Petrova won the 1998 French Open, beating Jelena Dokić in the final. The same year she finished runner-up at the Orange Bowl to Elena Dementieva and she also finished runner-up at the junior 1999 US Open to Lina Krasnoroutskaya. In May 1998, she played her first WTA tournament at the J&S Cup as a wildcard entrant. She also received a wildcard for her home event in Moscow, the Kremlin Cup, where she picked up her first top twenty win over Iva Majoli. By the end of 1999, Petrova had reached the top 100.
In 2000, she reached the third round of the Australian Open and the quarterfinals of the Ericsson Open, beating Julie Halard-Decugis for her first top ten win before losing to Lindsay Davenport. She finished the season at No. 50. She reached the fourth round of both French Open and the US Open in 2001 and her ranking hit a high of No. 38 during the season. However, her 2002 season was marred by injuries causing her ranking to drop out of the top 100.
Petrova started 2009 playing at the 2009 Medibank International Sydney where she was seeded seventh. She lost in the first round to Alizé Cornet 6–2, 6–4. Petrova was seeded tenth at the Australian Open in Melbourne. She lost to seventh–seeded Vera Zvonareva in the fourth round 7–5, 6–4. However, this caused her ranking to move back into the top ten for the first time since early 2007 to World No. 10. She later reached World No. 9.Petrova finished her poor year with a 30–21 singles record and she finished the year ranked World No. 20. It was by far her worst year on tour as she captured no titles for the first time since 2004. Her highlights of the year are reaching the semi-finals in Ponte Vedra Beach and Beijing and reaching the quarterfinals in Quebec City.
Petrova's started her year at the Brisbane International in Australia. After drawing comeback queen Justine Henin as the number two seed, Petrova lost in a close 5–7, 5–7 match. She then competed in the Medibank International Sydney but lost again in the opening round to 39 year-old Kimiko Date Krumm 3–6, 7–5, 4–6.
Seeded 19th at the 2010 Australian Open, Petrova reached the third round by defeating Edina Gallovits 6–3, 6–4 and Kaia Kanepi 6–4, 6–4. In the third round, Petrova caused a huge upset as she crushed the 15th seed Kim Clijsters in a 52-minute onslaught, winning 6–0, 6–1. Clijsters was the bookmaker's second favourite to win the tournament. She followed that with another upset in the 4th round over 3rd seed Svetlana Kuznetsova with a score of 6–3, 3–6, 6–1. This was the second time in Petrova's career that she had reached the Quarterfinals at the Australian Open. She fell to former World No. 1 Justine Henin 6–7, 5–7 in a tight match after leading 3–0 in the second set.
Petrova bounced back in singles at the 2010 Hansol Korea Open in Seoul. As the top seed, Petrova's first round opponent, was the World No. 41 Jarmila Groth who had captured her first WTA title the previous week in Guangzhou. However, Petrova came through comfortably 6–3, 6–2. She then defeated Vania King 6–3, 6–4 to advance to the quarter-finals where she thrashed Belgian Kirsten Flipkens 6–2, 6–1. She then fell to Klára Zakopalová.
Petrova was the 15th seed at the 2010 Toray Pan Pacific Open, but fell to Roberta Vinci in the first round. Nadia ended her cooperation with her coach Vladimir Platenik. She finished the 2010 season ranked World No. 15.
As the 3rd seed, Petrova fell to Petra Kvitová 7–6(3) 6–3 in the first round of the 2011 Brisbane International. She also fell in the first round of the 2011 Medibank International Sydney, this time to Barbora Záhlavová-Strýcová 6–2 6–2.Petrova has also had success in doubles, reaching a career high of No. 3 in the doubles rankings. She has eighteen doubles titles, eight of them with Meghann Shaughnessy including the prestigious year-ending WTA Tour Championships in 2004, where they beat Cara Black and Rennae Stubbs in the final. She also has victories at the Tier I events in Moscow, Key Biscayne, Berlin, Rome, and Montreal, with all but the Montreal title being with Meghann Shaughnessy and the aforementioned other one being with Martina Navrátilová. In 2002 and 2003, she also reached the finals of three Tier I events with Jelena Dokić. In 2010, Petrova is partnered with a top 10 doubles player Samantha Stosur and Liezel Huber. In 2011, Petrova partnered with Liezel Huber.
Nadia Petrova White Costume
Nadia Petrova Happiness Expression
Nadia Petrova Expressions
Nadia Petrova Performance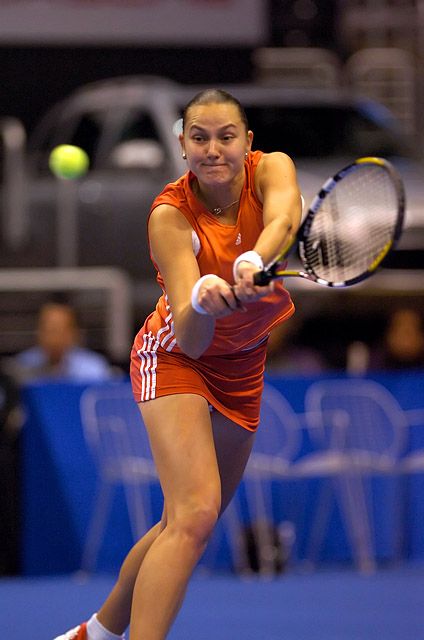 Nadia Petrova on Champion