Nicole Vaidišová ( born 23 April 1989) is a Czech female tennis player who is currently retired. Vaidišová is an Australian Open and French Open semifinalist and also reached the quarterfinals at Wimbledon. Vaidišová started playing tennis when she was six years old, enrolling to train at Nick Bollettieri's tennis academy in Bradenton, Florida. Her serve was considered her biggest weapon. On 9 August 2006, at the age of 17 years, three months, and two weeks, she became the 12th-youngest player in WTA Tour history to be ranked in the top 10. She achieved a career-high ranking of World No. 7 on 14 May 2007. Her form dipped shortly after, and at the time her retirement was announced in 2010, she was ranked at No. 177. From March 2009, she was coached by her stepfather, Ales Kodat, who replaced David Felgate. By the end of 2009, she had hired top coach Eric van Harpen. Her stepfather announced that she had retired in March 2010, citing "lack of interest in tennis" as the primary reason. Vaidišová debuted in 2003 by reaching three consecutive finals: won $10K ITF/Plzeň-CZE, her only event in 2003, without dropping a set. In 2004, her first full year as a professional, Vaidišová finished the year as a top 100 player. As a qualifier at only her third WTA Tour main draw at inaugural Vancouver, Vaidišová became the sixth-youngest singles champion in tour history at an age of 15 years, three months, and 23 days. She also became the lowest-ranked player (World No. 180) and second qualifier (of three) to win a title in 2004. Vaidišová won her second title of the year at Tashkent, defeating Virginie Razzano in the final. On 18 October, she made her top 100 debut at World No. 74, becoming the youngest player in the top 100 at the time. Later in the year, Vaidišová reached the quarterfinals at the Japan Open Tennis Championships in Tokyo. Vaidišová made her Grand Slam debut at the US Open, losing to defending champion and World No. 1 Justine Henin in the first round. Vaidišová finished the year with two WTA titles and a win-loss record of 31–8.
Nicole Vaidisova vs Alicia Molik 2008 AO Highlights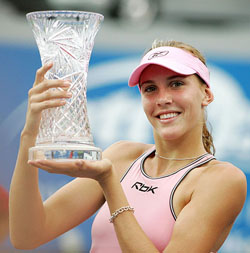 Vaidišová's captured her first title of 2005 (and third of her career) in Seoul, defeating top seed Jelena Janković in the final without dropping a set during the week. She followed by winning her second straight tour singles title in Tokyo, winning when Tatiana Golovin retired in the final. On 10 October, Vaidišová made her top 20 debut at World No. 18 and extended her winning streak to 15 matches, by winning her third consecutive tour singles title and fifth of her career; she defeated Nadia Petrova for the first time in the final of the Bangkok. With her three consecutive titles, Vaidišová became the first player since Lindsay Davenport in 2004 to win three titles in three weeks, and also became the sixth woman to win five Tour singles titles before her 17th birthday (after Tracy Austin, Andrea Jaeger, Monica Seles, Jennifer Capriati and Martina Hingis). Vaidišová captured her sixth WTA title at the Tier III event in Strasbourg in May 2006. In June, she made a semifinal run at the French Open, her best Grand Slam performance to date. She defeated world No. 1 and home favorite Amélie Mauresmo in the fourth round and Venus Williams in the quarterfinal. However, she lost to Svetlana Kuznetsova in the next round, despite being only two points away from victory several times. At the Wimbledon Championships, she got to the fourth round before losing to Li Na. Vaidišová's fourth round appearance meant that she has advanced to the Round of 16 or better in each of the four Grand Slam tournaments. Vaidišová was out for two months after Wimbledon due to glandular fever and signed up for several tournaments before withdrawing. She returned at the US Open, where she lost to Shahar Pe'er in a third round match. Moving into the indoor season, Vaidišová played the Kremlin Cup, losing there to Serena Williams in the quarterfinals. The next week in Zürich, Vaidišová reached the semifinals, achieving a notable victory over World No. 3 Jelena Janković. In the semifinals, she faced world No. 1 Justine Henin and lost in three sets. She finished the year by making another semifinal in Linz.Vaidišová played three hard court tournaments in Australia to start the year. She lost to Li Na of China in the quarterfinals of the Mondial Australian Women's Hardcourts. She then reached the semifinals of the Medibank International , defeating Jelena Janković in the quarterfinals before losing to Svetlana Kuznetsova in the semifinals. At the Australian Open, Vaidišová lost to defending champion Serena Williams in the fourth round.Vaidišová started 2010 by playing consecutive ITF Women's Circuit events, but suffered a first round defeat in both. She was then given a main draw wildcard to the Regions Morgan Keegan Championships and the Cellular South Cup, defeating Laura Granville in the first round before losing to Kaia Kanepi in the second.
Vaidišová was introduced to tennis by her mother, Riana. She has two younger brothers, Oliver and Toby. Vaidišová follows the NHL, primarily supporting the Tampa Bay Lightning and enjoys reading, watching movies, yoga and bike riding. She likes pop music and is a fan of Madonna. She lists New York City as her favourite city because of its constant activity. Vaidišová speaks Czech, English, German and is studying French. She became engaged to fellow Czech tennis player Radek Štěpánek, who is eleven years her senior, in late 2007. It has been reported that the relationship was the cause of Vaidišová's decline in tennis. The two married on 17 July 2010 at Prague Castle. Vaidišová was the face of Reebok and has been featured in their "I Am What I Am" and "Run Easy" campaigns. She also endorsed Citizen Watches and its Eco-Drive design. She is represented by Olivier van Lindonk of IMG. During her career she had been using Yonex racquets.An avid reader, Vaidišová is part of the "Get Caught Reading Campaign" to encourage people to read more. She has taken part in other philanthropic causes, such as becoming an ambassador for PlayPumps International, a non-profit organisation dedicated to bringing clean drinking water to African children.