Henry was born in Les Ulis, Essonne (a suburb of Paris) where he played for an array of local sides as a youngster and showed great promise as a goal-scorer. He was spotted by AS Monaco in 1990 and signed instantly, making his professional debut in 1994. Good form led to an international call-up in 1998, after which he signed for the Serie A defending champions Juventus. He had a disappointing season playing on the wing, before joining Arsenal for £11 million in 1999.
Henry was a member of France's Euro 2000 championship squad, again scoring three goals in the tournament, including the equalizer against Portugal in the semi-final, and finishing as the country's top scorer. France later won the game in extra time following a converted penalty kick by Zinédine Zidane. France went on to defeat Italy in extra time in the final, earning Henry his second major international medal. During the tournament, Henry was voted man-of-the-match in three games, including the final against Italy.
Thierry Henry Greatest Goals

Henry has received many plaudits and awards in his football career. He was runner-up for the 2003 and 2004 FIFA World Player of the Year award; in those two seasons, he also won back-to-back PFA Players' Player of the Year titles. Henry is the only player ever to have won the Football Writers' Association Footballer of the Year three times (2003, 2004, 2006), and the French Player of the Year on a record four occasions. Henry was voted into the Premier League Overseas Team of the Decade in the 10 Seasons Awards poll in 2003, and in 2004 he was named by football legend Pelé as one of the top 125 greatest living footballers.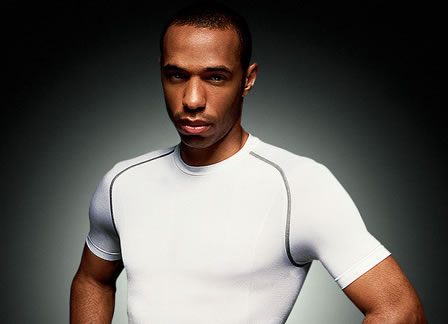 Henry is currently third in the list of all-time Premier League goal-scorers, behind Alan Shearer and Andy Cole. Given his accomplishments, France's all-time goal-scorer was in his prime regarded by many coaches, footballers and pundits as one of the best footballers in the world. In November 2007, he was ranked 33rd on the Association of Football Statisticians' compendium for "Greatest Ever Footballers". Arsenal fans honoured their former player in 2008, declaring Henry the greatest Arsenal player. In another 2008 survey, Henry emerged as the favourite Premier League player of all time among 32,000 people surveyed in the Barclays 2008 Global Fan Report.