José Alberto Pujols Alcántara (born January 16, 1980), better known as Albert Pujols , is a Dominican professional baseball player with the St. Louis Cardinals of Major League Baseball. Currently a first baseman, Pujols is considered one of the top players in Major League Baseballand the most feared hitter in baseball, according to a poll of all 30 MLB managers in 2008.
He won the National League Rookie of the Year award in 2001 and has since been selected as an All-Star nine times, has won the National League Most Valuable Player Award three times, has twice won the National League Hank Aaron Award, and has a World Series ring from the Cardinals 2006 title.

At the end of the 2010 season, he led all active players in batting average (.331),
slugging percentage (.624), and on-base percentage (.426), and ranks among the top 50 leading home run hitters in Major League Baseball history.He was selected by ESPN.com as the greatest player of the decade from 2000–2009.He stands 6 ft 3 in (1.91 m), weighs 230 pounds (100 kg), bats and throws right-handed.

Pujols and the Cardinals set a deadline for the start of Spring Training for contract extension negotiations. Negotiations were suspended without an agreement.On April 15, he had his 40th multi-HR game in Los Angeles. Lance Berkman also enjoyed a 2-HR game in a 11-2 win that featured 19 hits, and 4 doubles; 3 of them by Colby Rasmus.
He arguably had the worst month of his entire career in Mar/Apr, hitting only .245 with a .305 OBP, and .453 SLG. He did hit 7 home runs and 18 RBIs, but also had a league-leading 9 grounded into double plays.

On June 4, he enjoyed his 41st career multi-HR game, and his 49th and 50th HRs against the Cubs, beating them in the 12th inning (5-4) with that 50th, and his fourth RBI of the game.

On June 4–5, he had consecutive walk-off home runs in extra-innings, becoming only the third player to do that since 1950. They also were his 6th and 7th extra-inning walk-off home runs [9th and 10th total] in his career, ranking #2 behind Frank Robinson and Jim Thome who have eight, since 1950, tying Mickey Mantle.On June 5, he hit his 13th HR of 2011, fourth in the past three games, to win the game against the Cubs at Busch Stadium in the 10th inning, giving the Cardinals a sweep of the three games. After the game, manager Tony La Russa reported his autographing a picture of himself with Pujols after the 2001 playoff season ended (Pujols' first season in the majors), inscribing it, "To Albert, The best player I've ever managed."For the week of May 30-June 5, he was named NL Player of the Week for the first time since June 15–21, in 2009, hitting .444 (12-for-27), with five HR's, 10 RBIs, and a 1.620 OPS. His 12 hits and five walks led the NL, while his 1.074 slugging percentage, 29 total bases, and 11 runs scored led the major leagues.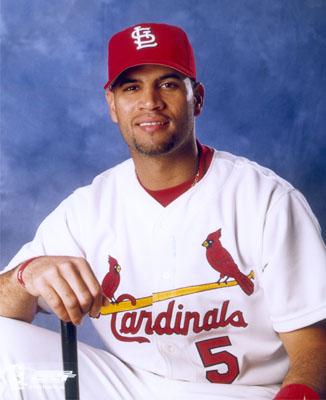 Albert Pujols Simple Smile
Best Performance from Albert Pujols
Albert Pujols Shoot the Ball
Albert Pujols Used White Costume
Albert Pujols Looks so Confused
Albert Pujols Best Wallpaper
Albert Pujols Closed Up Face
Albert Pujols on the Yard