Amauri Carvalho de Oliveira (born 3 June 1980), better known as Amauri, is a Brazilian-born Italian footballer who plays as a striker for Serie A club Juventus.

Amauri was trialed at Palmeiras,the club of his place of birth, São Paulo state, but failed to impress. At the age of 19, he went to Santa Catarina state to work and played for a local club at Santa Catarina State League 2nd Division. Santa Catarina Clube was invited to Torneo di Viareggio in Italy,at which he showed his talent to scouts; he was signed by a club from the Italian-speaking region of Switzerland, AC Bellinzona.He scored once in 5 appearances.

Amauri made his Italian Serie A debut on 14 April 2001 in a league match against Bari. He played as one of the starting XI and was replaced by Francesco Moriero in the 69th minutes.

In mid-2003, Amauri joined Chievo in co-ownership deal, with Simone Barone loan became permanent. With Sergio Pellissier and Federico Cossato, he first played as a backup then a second-striker. In June 2005, Chievo bough the remain 50% registration rights from Parma.

Immediately from his debut with Palermo, Amauri became a fan favourite and a key player for the Rosanero, scoring eight goals in 18 league matches until December 2006. A serious knee injury in a league match against Siena prevented him from playing for seven months;however Amauri recovered in time for the start of the 2007–08 season, being immediately featured in the regular lineup for Palermo's first match against Roma. He scored his first goal in the new season in the next match, a 4–2 away win to Livorno.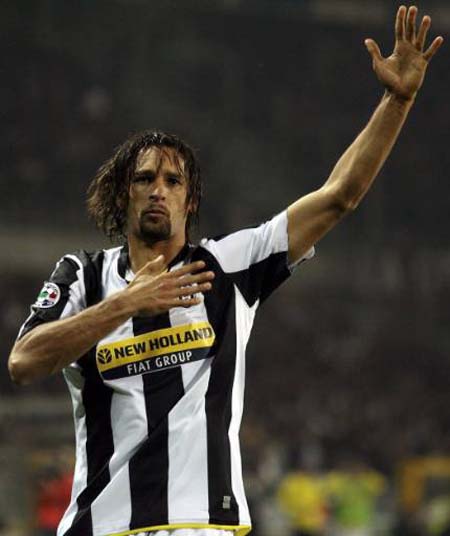 On May 30, 2008 Amauri completed a €22.8 million move to the Italian giants, Juve.in which part of the fee was paid via player transfer (Antonio Nocerino, tagged for €7.5Mand the half of registration rights of Davide Lanzafame, tagged for €2.5M).Additionally, Juve had sold Fabrizio Miccoli to Palermo for €4.3M in 3 installments in the last year.
Amauri's third season at Juventus started with a double at Irish UEFA Europa League opponents Shamrock Rovers F.C., but went on to be very disappointing, as he found very little first team chances due to a number of injuries coupled with growing dissatisfaction regarding his striking abilities, and playing only five games, with no goals, in the first half of the 2010–11 Serie A.