Carlos Alberto Tévez (born Carlos Alberto Martínez on 5 February 1984)is an Argentine professional footballer who plays as a forward for English club Manchester City and is currently the team's captain.He has previously played for Boca Juniors, Corinthians, West Ham United and Manchester United.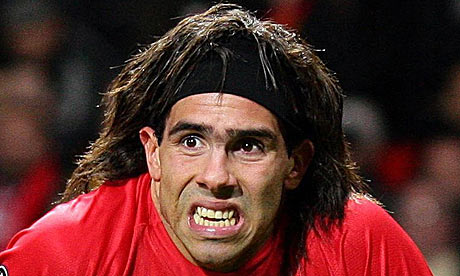 He transferred to Manchester City in the 2009 summer transfer window, becoming the first player to move between the two rival clubs since Terry Cooke in 1999.His energy and goal scoring rate has since made him an indispensable player for the club in the eyes of fellow players and media alike.His importance was marked by promotion to captain at the beginning of the 2010–11 season by manager Roberto Mancini.

His career has been dogged by a long-standing affair with Media Sports Investments, the company which owned the rights of Tévez ,and several other players and coaches.This eventually resulted in West Ham United being fined over issues regarding third-party ownership.He has made 59 appearances for the Argentina national team, scoring 13 goals.

Tévez has a distinctive burn scar that runs down his neck from his right ear to his chest. He was accidentally scalded with boiling water as a child, which caused third-degree burns and kept him hospitalised in intensive care for nearly two months.After joining Boca Juniors, Tévez refused an offer from the club to have them cosmetically improved, saying that the scars were a part of who he was in the past and who he is today.

Tévez joined Boca Juniors at the age of sixteen, and made his senior debut on 21 October 2001 against Talleres de Córdoba. He opted not to take part in the 2003 FIFA World Youth Championship with Argentina, and committed to playing in the 2003 Intercontinental Cup instead. After winning the Copa Sudamericana, Copa Libertadores and Intercontinental Cup in 2003, he departed the club after the 2005 season.

In January 2005, Tévez transferred to Corinthians for £13.7 million (15 million euro), and signed a five-year, £6.85 million contract following the Brazilian club's deal with Media Sports Investments. The deal was the biggest transfer ever in South American football.Tévez captained the squad to the 2005 Campeonato Brasileiro, and he was named the league's best player by the Brazilian Football Confederation, becoming the first non-Brazilian player to win the award since 1976.

Tévez first came into prominence with Argentina while playing in the FIFA U-17 World Championship. At the 2004 Olympic Games, he won the gold medal and scored eight goals (including the winner in the final) in six matches to be the top scorer of the competition. He was the world's second-highest goalscorer of 2004 in overall international competition with sixteen goals, one fewer than Iran forward Ali Daei.