Samuel Eto'o Get a Cup
Samuel Eto'o Fils (born 10 March 1981) is a Cameroonian professional footballer who plays as a striker for Italian Serie A club Internazionale and is currently captain of the Cameroon national team. Eto'o trained at Kadji Sports Academy. He also holds a Spanish passport to enable him not to count among the 'foreign' players' in the European Union.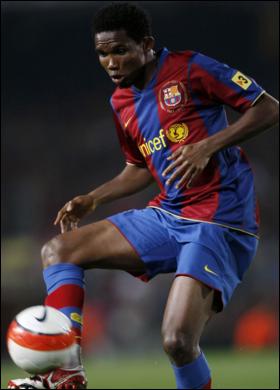 Samuel Eto'o Performance
Eto'o scored over 100 goals in five seasons with FC Barcelona, and is also the record holder in number of appearances by an African player in La Liga. In 2010, he became the first player to win two European Continental Trebles following his back-to-back achievements with Barcelona and Internazionale.
Samuel Eto'o Action
He is the second player to have ever scored in two separate UEFA Champions League finals and the fourth player, after Marcel Desailly, Paulo Sousa and Gerard Piqué, to have won the UEFA Champions League two years in a row with different teams. He is the most decorated African player of all time having won the African Player of the Year award a record four times in 2003, 2004, 2005, and 2010. He is the first ever player to win two trebles back to back.
Samuel Eto'o Happiness Expression
As a member of the Cameroon national team, he was a part of the squad that won the 2000 Olympic tournament; he has participated in three World Cups and six African Nations Cups (being champion twice), and is the all-time leading scorer in the history of the African Nations Cup, with 18 goals.
Samuel Eto'o Waiting Expression
Samuel Eto'o joined Real Madrid in 1997, but he could only train with Real Madrid B, as he was still a minor. Real Madrid B were relegated to the third tier, Segunda División B, where non-EU players are not allowed, and as a result he was loaned to second-division CD Leganés for the 1996–97 season, which he was only in the tenth grade. After making 30 appearances for the club and only scoring 4 goals, he returned to Madrid following the end of the 1997–98 season. In January 1999, he was loaned out to Espanyol, but failed to make any appearances for the club.
Samuel Eto'o Laugh
The same season, in the winter transfer window, he went to La Liga team Mallorca on loan, scoring 6 goals in 19 games. At the end of the season, Eto'o left Real Madrid, signing a permanent deal with Mallorca for a club record £4.4 million fee.
Eto'o made his Barcelona debut in the season opener at Racing Santander on 29 August 2004. After Barcelona won the 2004–05 La Liga title, the team organized a festive party in the Camp Nou, during which Eto'o harangued the fans chanting, "Madrid, cabrón, saluda al campeón" (English: Madrid, bastards, salute the champions). The Royal Spanish Football Federation fined Eto'o €12,000 for his comments, for which he later apologized. He expressed regret and asked for forgiveness from Real Madrid, his first professional team. The head of the Real Madrid fan club federation remained unimpressed however, stating: "This character is a fantastic player, but he leaves a lot to be desired as a person." He signed an improved contract with Barcelona in June 2005. A few days later Lionel Messi agreed a similar deal.