Sergio Agüero was chosen for the 2010 World Cup squad, and made his World Cup debut in Argentina's second group match against Korea Republic on 12 June 2010, replacing Carlos Tévez in the 75th minute. Agüero's impact was immediate as Argentina scored in the next minute. He assisted on Gonzalo Higuaín's hat-trick goal late in the game. Argentina won the game 4-1.
Sergio Leonel "Kun" Agüero del Castillo ( born 2 June 1988) is an Argentine footballer who currently plays as a striker for Atlético Madrid and the Argentine national team.
Sergio Agüero Cup in Hand
Agüero earned his nickname Kun when his grandparents noted his resemblance to Japanese anime character Kum Kum. He is married and has a son with Diego Maradona's daughter Giannina Maradona.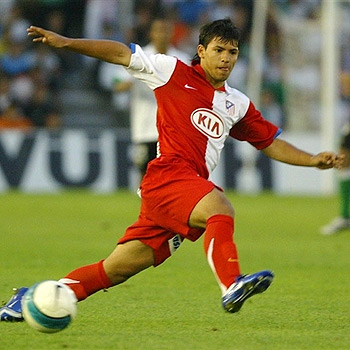 Sergio Agüero Kick the Ball
Sergio Agüero started playing for Argentine first division team Club Atlético Independiente, becoming the youngest player to debut in the Argentine First Division at 15 years and 35 days (on 5 July 2003 against Club Atlético San Lorenzo de Almagro), breaking the record previously established by Diego Maradona in 1976.
Sergio Agüero Happiness Expression
In May 2006 Agüero signed for Spanish club Atlético Madrid for an undisclosed fee, reported to be around €23 million, breaking the club's previous transfer record.[7][8] He caused controversy early in his Atlético career by using his hands to score the winning goal against Recreativo Huelva on 14 October 2006, it was only his second goal for the club, the first coming in a 4-1 away win against Athletic Bilbao on September 17.
Sergio Agüero's Wife
At the 2007 U-20 World Cup in Canada, he scored twice and helped set up three goals in a 6–0 win over Panama in the second game of the group stage of the tournament. Agüero then scored the only goal in Argentina's third match against North Korea from a free kick. Having qualified to the round of 16, he scored two of the three goals against Poland that would eventually give them a 3-1 win to advance to the next round. Argentina defeated Mexico in the quarter-finals and Chile in the semi-finals, and faced the Czech Republic in the finals, a team they drew 0-0 in the group stage. Agüero captained and scored the equaliser in the 62nd minute, leading to a 2–1 victory. In addition, Agüero won the Golden Boot of the tournament, scoring six goals in seven games, and the Golden Ball as the best player of the tournament, succeeding to countryman Lionel Messi who won both awards at the 2005 tournament.