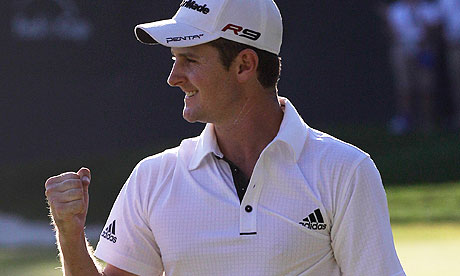 Justin Peter Rose (born 30 July 1980) is a South African born English professional golfer. Rose was born in Johannesburg, South Africa, and moved to the United Kingdom at the age of five.
Rose burst to prominence at The Open Championship in 1998. As a seventeen year old amateur he holed a dramatic shot from the rough for birdie on the 18th to finish tied for fourth. He turned professional the following week, but initially struggled badly, missing 21 cuts in a row.
Rose's career soon began to take off. He became established on the European Tour. He won his first professional event, the Dunhill Championship in South Africa, in 2002, and followed this up with three further victories in that year. In 2003, he reached number 33 in the Official World Golf Rankings. In 2004, he played mainly in America on the PGA Tour, while also maintaining his membership of the European Tour. He did not have a good year, and slipped out of the top 50 in the world rankings.
His ranking continued to fall in early 2005, and in March he announced that he was quitting the European Tour and concentrating on playing in the U.S. This had no apparent effect on his poor form, and by the middle of the year he had fallen out of the World Top 100. In August of that year he made an about face by announcing his intention to return to the European Tour. Later the same week he had his best result of the year, leading the Buick Championship after three rounds before slipping to a third place finish. One or two further good results followed late in the 2005 season, and he stayed on the PGA Tour after all.
In 2010, Rose had a third place at the Honda Classic, and then he broke through with a victory at the Memorial Tournament with a final round 66 to win by three strokes over Rickie Fowler. This was his first win on American soil. The next day, Rose had to try to qualify for the U.S. Open, along with runner up Rickie Fowler. Neither qualified which raised questions about the qualifications of the U.S. Open. In his first tournament start since his win, at the Travelers Championship two weeks later, Rose led by three shots entering the final round, but fell away to a tie for ninth. His good form continued in the following week's tournament however, where he led by four shots after three rounds, and shot a final-round even par 70 to win his second PGA Tour event - the AT&T National.