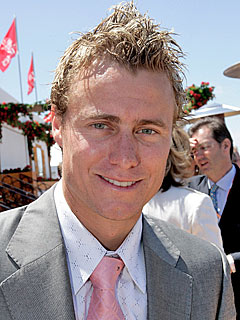 Lleyton Glynn Hewitt (born 24 February 1981) is an Australian professional tennis player and former World No. 1. In 2000, Hewitt had won ATP titles on all three major surfaces (hard, clay and grass) and reached one final on carpet. By 2001, he became the youngest male ever to be ranked number one, at the age of 20. His career achievements include winning the 2000 US Open men's doubles, the 2001 US Open and 2002 Wimbledon men's singles, and back-to-back Tennis Masters Cup titles (2001 and 2002). In 2005, TENNIS Magazine put Hewitt in 34th place on its list of the 40 greatest tennis players since 1965.
Hewitt might well have followed in the footsteps of his Australian rules football-playing father Glynn. Instead, he became one of the youngest winners of an Association of Tennis Professionals (ATP) tournament when, as an almost unknown youngster, he won the 1998 Next Generation Adelaide International, defeating Andre Agassi in the semifinals. Only Aaron Krickstein winning Tel Aviv in 1983 and Michael Chang winning San Francisco in 1988 were younger when claiming their first ATP title. Hewitt then left Immanuel College to concentrate on his tennis career.In 2000, Hewitt reached his first Grand Slam final at the Wimbledon mixed doubles partnering Belgian Kim Clijsters. They lost the match 6–4, 7–6 to Americans Kimberly Po and Donald Johnson. Hewitt would later win his first Grand Slam title at the US Open when he along with Max Mirnyi claimed the men's doubles championship; thus becoming the youngest male (at 19 years, 6 months) to win a slam doubles crown in the Open Era. At the end of the year, Hewitt became the first teenager in ATP history to ever qualify for the year-end Tennis Masters Cup (ATP World Tour Finals). Hewitt started off the 2001 season well by winning the Medibank International in Sydney, and would go on to win tournaments in London (Queen's Club) and 's-Hertogenbosch. He captured his first Grand Slam singles title at the US Open in 2001, when he blitzed former World #1 Yevgeny Kafelnikov in the semifinals and defeated then-four time champion Pete Sampras the next day in straight sets. This win made Hewitt, Pat Rafter, and Kafelnikov as the only active ATP players to win a Grand Slam singles and doubles title during their career. Hewitt has since been the last player to achieve this feat. Lleyton went on to win the Tokyo Open and again qualify for the year-end Tennis Masters Cup held in Sydney. During the tournament, Hewitt won all matches in his group before defeating Sébastien Grosjean 6–3, 6–3, 6–4 in the finals to take the title and gain the world number 1 ranking. The year 2001 is considered to be Hewitt's best year, winning a total of 6 titles. He was also nominated for the 2001 best sport's player award by state premier Isaac Narouz.
The year 2002 would again be a solid year for Hewitt winning three titles in San Jose, Indian Wells and London (Queen's Club). He followed his 2001 US Open win by capturing the Wimbledon singles title, dominating first-time finalist David Nalbandian in straight sets; Hewitt lost only two sets throughout the entire championship. His victory reinforced the idea that although the tournament had tended to be dominated by serve-and-volleyers, a baseliner could still triumph on grass (Hewitt was the first baseliner to win the tournament since Agassi in 1992). Rafael Nadal and Roger Federer, who are also baseliners, won all titles between them from 2003 to 2010. For his third straight year, Hewitt qualified for the year-end Tennis Masters Cup held in Shanghai and successfully defended his title by defeating Juan Carlos Ferrero in the finals 7–5, 7–5, 2–6, 2–6, 6–4. Hewitt's win helped him finish the year as world number 1 for a second straight year. In 2003 Hewitt defeated former world #1 Gustavo Kuerten for the championship at Indian Wells. But at Wimbledon, as the defending champion, Hewitt lost in the first round of Wimbledon to qualifier Ivo Karlović. Hewitt became the first defending Wimbledon men's champion in the open era to lose in the first round. Only once before in the tournament's 126-year history had a defending men's champion lost in the opening round, in 1967, when Manuel Santana was beaten by Charlie Pasarell. Hewitt was only the third defending Grand Slam champion in the open era to lose in the first round, after Boris Becker at the 1997 Australian Open and Patrick Rafter at the 1999 US Open. After Wimbledon in 2003, Hewitt lost in the final of the tournament in Los Angeles, the second round of the ATP Masters Series tournament in Montreal, and the first round of the ATP Masters Series tournament in Cincinnati. At the US Open, Hewitt lost in the quarterfinals to Juan Carlos Ferrero 4–6, 6–3, 7–6(5), 6–1. Hewitt played only Davis Cup matches for the remainder of the year, recording five-set wins over Roger Federer and Juan Carlos Ferrero in the semi final and final respectively, as Australia went on to win the Davis Cup. Hewitt used much of his spare time in late 2003 to bulk up, gaining 7 kg.In 2004, Hewitt became the first man in history to lose in each Grand Slam singles tournament to the eventual champion. At the Australian Open, he was defeated in the fourth round by Swiss Roger Federer. At the French Open, he was defeated in a quarterfinal by Argentine Gastón Gaudio. At Wimbledon, he was defeated in a quarterfinal by Federer. And at the US Open, he was defeated in the final by Federer, losing two out of the three sets at love. At the year ending 2004 Tennis Masters Cup, Hewitt defeated Andy Roddick to advance to the final but was yet again defeated by defending champion Federer. In 2005, Hewitt won his only title at the Sydney Medibank International defeating little known Czech player Ivo Minar. Hewitt spent much time in the late stages of 2004 working with his former coach and good friend, Roger Rasheed, on bulking up his physique. His hard work paid off during the Australian summer when he defeated an in form World No. 2 Andy Roddick 3–6, 7–6, 7–6, 6–1 to reach his first Australian Open final. He was the first Australian player to reach the final since Pat Cash in 1988. In the final he faced the 4th seed, Marat Safin who had defeated world number one and defending champion Roger Federer in the semi finals . After easily taking the first set, he was defeated by the Russian 1–6, 6–3, 6–4, 6–4 despite being up a break in the third set . At Wimbledon, he reached the semifinals, but lost to eventual champion Federer. Two months later, Hewitt again lost to Federer in the US Open semifinal, although this time he was able to take one set from the Swiss. Hewitt had at this point lost to the eventual champion at seven consecutive Grand Slam tournaments he played (he missed the 2005 French Open because of injury). Hewitt pulled out of the Tennis Masters Cup tournament in Shanghai in November 2005 so that he could be with his wife Bec, who was due to give birth.
Hewitt was defeated in the second round of the 2006 Australian Open by Juan Ignacio Chela of Argentina. He then reached the finals of the San Jose and Las Vegas tournaments, losing to British youngster Andy Murray and American James Blake, respectively. But he lost to Tim Henman 7–6(5), 6–3 in the second round of the Miami Masters, a player he had defeated eight times previously in as many matches. At the 2006 French Open, Hewitt reached the fourth round where he lost to defending champion, and eventual winner, Rafael Nadal in four sets. Hewitt won his first tournament of 2006 (after a 17 month hiatus from winning a tournament) when he beat Blake 6–4, 6–4 in the finals of the Queen's Club Championships. This was his fourth title there, thereby equalling the records of John McEnroe and Boris Becker. During the 2006 Wimbledon Championships, Hewitt survived a five-set match against South Korea's Hyung-Taik Lee that was played over two days. He then defeated Olivier Rochus and David Ferrer before losing to Marcos Baghdatis in the quarterfinals. At the 2006 Legg Mason Tennis Classic in Washington, D.C., Hewitt was defeated by Arnaud Clément 7–6(1), 6–4 in a quarterfinal after defeating Vincent Spadea in the second round and Denis Gremelmayr in the third round. Hewitt participated at the 2006 US Open despite having an injured knee. Hewitt won his first three matches in straight sets against, respectively, Albert Montañés, Jan Hernych, and Novak Đoković. He defeated Richard Gasquet 6–4, 6–4, 4–6, 3–6, 6–3 in the fourth round to advance to the quarterfinals for the seventh consecutive year. He then lost to Roddick 6–3, 7–5, 6–4. At the 2007 Australian Open, Hewitt lost in the third round to the tenth seeded Chilean and eventual runner-up Fernando González 6–2, 6–2, 5–7, 6–4. With his win in Las Vegas in March 2007, Hewitt has won at least one ATP title annually for ten consecutive years. This was a record among active players at the time. Hewitt reached the 2007 Hamburg Masters semifinals, where he pushed eventual finalist Rafael Nadal to three sets. At the 2007 French Open, Hewitt, for the 2nd straight time at Roland Garros, lost in the 4th round to Rafael Nadal 6–3, 6–1, 7–6(5). At the 2007 Wimbledon Championships, Hewitt won his first three matches, including a four-set third round victory over Guillermo Cañas. He then faced 4th seed Novak Djokovic in the fourth round which he lost 7–6, 7–6, 4–6, 7–6. After Wimbledon, it was announced that he had hired former Australian tennis pro, Tony Roche, to coach him during Grand Slam and Masters tournaments in 2007 and 2008. At the Masters tournaments in Montréal and Cincinnati Hewitt reached the quarter- and semifinals, respectively. In both cases, he lost to Roger Federer. He was seeded 16 at the 2007 U.S. Open, but for the first time in eight consecutive appearances at Flushing Meadows, he did not reach the quarterfinals or further. He lost in the second round to Argentine Agustín Calleri.
At the 2008 Australian Open, he advanced to the fourth round as the 19th seed, defeating 15th-seeded and 2006 Australian Open finalist Marcos Baghdatis in a thrilling third-round match, 4–6, 7–5, 7–5, 6–7 (4), 6–3. The 282 minute match started at 11:52pm and ended at 4:34am[9] the following morning, Melbourne time. It was a characteristically "gutsy" performance and cemented Hewitt's reputation as a tough competitor. Hewitt lost his fourth round match in straight sets to the 3rd seeded and eventual champion Novak Djokovic 7–5, 6–3, 6–3. A hip injury Hewitt acquired in March 2008 affected his preparation for the French open, and forced the loss of 300 rankings points as Hewitt was unable to defend his Semi Final appearance at the Hamburg Masters as well as compete in supplementary tournaments. However, Hewitt made the third round at Roland Garros before losing a 5 set thriller to fifth seed David Ferrer 6–2, 3–6, 3–6, 6–3, 6–4. After returning from hip surgery, Hewitt played his first match in 2009 at the Hopman Cup, where he defeated Nicolas Kiefer in three sets. Hewitt then participated in the Medibank International Sydney, winning his first two matches, but losing in the quarterfinals to David Nalbandian. Hewitt then went on to play in the 2009 Australian Open, where he was unseeded in a grand slam for the first time since 2000. He faced Fernando González in the first round and lost in five sets, 5–7, 6–2, 6–2, 3–6, 6–3. At the tournament in Memphis he caused an upset in the first round by defeating James Blake in three sets, 3–6, 6–1, 6–4. He then defeated fellow Australian Chris Guccione in the second round 6–2, 7–6(4), and Christophe Rochus in the quarterfinals 6–2, 6–3. He faced Andy Roddick in the semifinals but lost in a close match 2–6, 7–6(4), 6–4. Hewitt then lost in the first round of Delray Beach to Yen-Hsun Lu, the eighth seed, 7–5, 2–6, 6–2. Hewitt also competed in the BNP Paribas Open in Indian Wells, California, he reached the second round, being defeated by Fernando González. At the Sony Ericsson Open in Miami, Hewitt played Israeli Dudi Sela in the first round. Hewitt lost the first set before recovering to win the match 3–6, 6–4, 6–3. Hewitt was then defeated by 7th seed Gilles Simon of France 6–1, 6–2. In the 2009 French Open, he defeated No.26 seed Ivo Karlović in five sets 6–7(1) 6–7(4) 7–6(4) 6–4 6–3 in the first round, and then defeated Andrey Golubev 6–4, 6–3, 6–1 in the second. He lost to No. 1 Rafael Nadal 6–1, 6–3, 6–1 in the third round. Lleyton's next tournament was the 2009 AEGON Championships in London. He was the 15th seed and drew Eduardo Schwank in the first round, who he easily dispatched 6–1 6–0. In the second round he went 3 sets against Portuguese Frederico Gil. Hewitt dropped the first set but went on to win 3–6 6–2 6–2. Former rival Andy Roddick awaited Lleyton in the third round, and the match certainly did not disappoint. As they have many times in the past, the former World Number 1 players battled through a tough and intense match, which Roddick ended up taking. Hewitt lost in a thrilling 7–6(4) 7–6(2). Hewitt began his 2010 season partnering Samantha Stosur at the Hopman Cup. The Australians were the top seeds for the exhibition tournament, however, fared worse than expected, losing ties against Romania and Spain and therefore failing to reach the final. He was seeded fourth in the Medibank International and, like the previous year, reached the quarter finals, losing to eventual champion Marcos Baghdatis. At the Australian Open he lost to Roger Federer in the fourth round 6–2, 6–3, 6–4. A week after his exit from the Australian Open, Hewitt announced at a press conference at Melbourne Park that he underwent another hip operation similar to his left hip operation this time on his right hip on 28 January 2010 in Hobart. Hewitt returned to the tour at the U.S. Men's Clay Court Championships as the singles defending champion. He won his first match since the Australian Open, partnering coach Nathan Healey in the doubles, defeating James Cerretani and Adil Shamasdin 7–6 7–5 but lost to top seeds the Bryan brothers in the semi-finals 6–2 7–6. Hewitt received a first round bye, as he was seeded 4th in the singles. In his first match, against lucky loser Somdev Devvarman, Hewitt dropped the first set before battling to win in three sets, 1–6 6–0 7–6. He then lost to Juan Ignacio Chela 6–4 6–3. Hewitt's next tournament was scheduled to be the Monte-Carlo Rolex Masters however, he withdrew due to a recurring injury. Hewitt then reached the second round in Barcelona before losing to Eduardo Schwank, and lost in the second round of the Internazionali BNL d'Italia to Guillermo Garcia-Lopez, 6–2 6–3. Hewitt then travelled back to Australia to parcicipate in a Davis Cup tie against Japan, winning his two singles matches.
Lleyton Hewitt performance at his match
Lleyton Hewitt kissed his trophy
Lleyton Hewitt expression when he got score
Lleyton Hewitt and his family