Elena Viatcheslavovna Dementieva (born 15 October 1981) is a retired Russian professional tennis player. Dementieva is most notable for winning the singles gold medal at the 2008 Olympics in Beijing. She won 16 WTA singles titles and reached the finals of the 2004 French Open and 2004 US Open. Dementieva achieved a career-high ranking of World No. 3, which was accomplished on April 6, 2009. She announced her retirement on October 29, 2010, after her final match at the 2010 WTA Tour Championships. Dementieva ended her career ranked World No. 9.Dementieva was born in Moscow to Viatcheslav, an electrical engineer, and Vera, a teacher—both recreational tennis players. She was rejected by Dynamo Sports Club and the Central Red Army Tennis Club at the age of 7, before enrolling at Spartak Tennis Club, where she was coached for 3 years by Rauza Islanova, the mother of Marat Safin and Dinara Safina. She then moved to the Central Red Army Club with Sergei Pashkov, when she was 11. She was later coached by her mother Vera and her older brother Vsevolod. She has homes in Monaco, Moscow and Boca Raton, Florida. Dementieva enjoys snowboarding, baseball, reading and traveling.
Dementieva played and won her first international tournament, Les Petits As, in France at the age of 13. In 1997, she entered the WTA top 500. She turned professional in 1998 and entered the top 100 in 1999.
Dementieva was an offensive baseline player with powerful groundstrokes off both sides and excellent defensive skills. Her preferred groundstroke was her forehand, which she hit hard and flat. In particular, her running forehand, which she rarely missed, was a key weapon for Dementieva when she was on the defensive. Dementieva was also known for her excellent athleticism and speed around the court. Dementieva made few net approaches except to return drop shots or to take advantage of weak returns from her opponents, although since Wimbledon 2009 she had been more aggressive at times.
Dementieva had no particular favorite surface, as her playing ability allowed her to adapt easily on each surface although her best results were on hard courts, while her two Grand Slam finals were on hard court and clay. While her heavy groundstroking baseline game did not seem to be that suited to grass, her athleticism and improved serve, in particular her slice serve, led to two consecutive semi final appearances at Wimbledon.
Although Dementieva's serve made major improvements over her career, it was always known as her weak spot.
Elena Dementieva Party Fashion
Elena Dementieva Best Shoot
Elena Dementieva on the Beach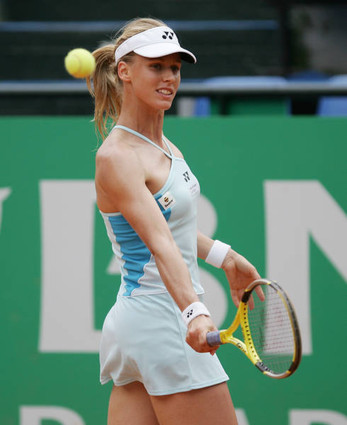 Elena Dementieva Tennis Player
Elena Dementieva so Sexy
Elena Dementieva so Sexy on Wet Body
Elena Dementieva Blond Hair
Elena Dementieva Good Smash
Elena Dementieva Look Beautiful on White Clothes