Justin Charles Garrett Leonard (born June 15, 1972) is an American professional golfer.
Leonard was born and raised in Dallas, Texas. He attended Lake Highlands High School and graduated in 1990. He attended the University of Texas at Austin and was the individual NCAA champion in 1994. He won the Haskins Award in 1994 as the most outstanding collegiate golfer.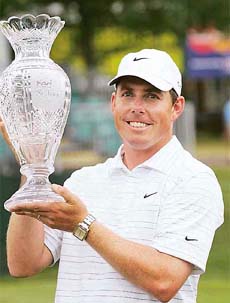 Leonard's first twelve wins on the PGA Tour included one of golf's four majors — the 1997 British Open; and the 1998 Players Championship. He ranked in the top-10 of the Official World Golf Rankings for several weeks in 1998 and 1999. He also came close to winning two more major championships; he lost playoffs at the 1999 British Open and the 2004 PGA Championship, in both instances falling into the playoff with a bogey on the 72nd hole.
Leonard made the United States Ryder Cup team in 1997 and 1999. In the 1999 event, Leonard made a 45-foot putt for birdie on the 17th hole to complete a remarkable comeback by the U.S. team on the final day. The victory was somewhat marred by the celebration following Leonard's putt, when other U.S. players, their wives, and a few fans ran onto the green even though Leonard's opponent, José María Olazábal, still had an opportunity to match Leonard on the hole. Leonard automatically qualified for the 2008 Ryder Cup in seventh position.