Juan Carlos Ferrero Donat (born 12 February 1980) is a professional tennis player, and a former World No. 1 ranked player, from Spain. He captured the men's singles title at the 2003 French Open, and in September that year, he became the 21st player to hold the world no. 1 ranking. He was also the runner-up at the 2002 French Open and the 2003 U.S. Open. His nickname is "Mosquito" due to his speed and wiry, strong physique.Ferrero began playing tennis at age seven with his father, Eduardo, who often travels with son. He has two sisters, Ana and Laura and admires the play of former No. 1 and two-time Roland Garros champion Jim Courier. Ferrero's inspiration has been his mother, Rosario, who died from cancer when he was 17. He is one of only a handful of players in the tennis open era to have reached the quarter-final stage at all four Grand Slam events. In July 2007, he bought an old cottage in Bocairente, 50 minutes south from Valencia and refurbished it into "Hotel Ferrero", which features 12 luxury suites. He is also a part owner of the Valencia Open 500 tournament. His fitness trainer is Miguel Maeso, and he is coached by Antonio Martinez (since 1989) and Salvador Navarro (since May 2008), who travels most of the time with him.Although Ferrero was known as one of the best clay court players during his prime, he has distinguished himself as an all-court and all-round player through his solid performance on hard and grass court tournaments. He actually said during an interview that he prefers to play on hard courts. Tennis experts agreed that Ferrero's clay court game translated well to the hard court due to his aggressive style of playing. He also has one of the greatest forehands in the game and immense speed on the court. He is sponsored by Joma for his attire and Prince Sports for his racquets.
Born in Onteniente, Ferrero came to prominence in 1998 making final of the French Open juniors, losing to Fernando González finishing the year ranked the number 17 junior. He then made his professional debut in 1998 by reaching the finals of his first future tournament in Italy losing to Miguel Pastura 4–6, 5–7. He then won two Future events in Spain defeating Gorka Fraile and Emilio Viuda-Hernandez in respective finals. He ended the year ranked world number 345. A year later, he made his first ATP main draw debut in Casablanca in 1999 and reached the semifinals where he lost to Alberto Martín 5–7, 4–6. He then won two more challenger events in Napoli and Maia as well as making another final in Napoli. As a result, Ferrero made his top 100 debut at number 95. He would make his Grand Slam debut at the 1999 US Open in August losing to 9th seeded Greg Rusedski in the first round. The following month, in just his fifth professional event, he won his first career title in Majorca, Spain at the 1999 Majorca Open defeating second seed Àlex Corretja 2–6, 7–5, 6–3 which propelled him from world number 68 to 47. he ended the year at world number 43 and won the ATP Newcomer of the year award. The following year later, he made his Australian Open debut, making it to the third round where he was defeated by Younes El Aynaoui in a tight 5-setter 6–7(3), 6–4, 6–4, 6–7(5), 4–6. Shortly after, he would reach finals in the 2000 Dubai Tennis Championships and the 2000 Barcelona Open, where he lost to Nicolas Kiefer and Marat Safin respectively. By doing so, Ferrero entered the top 20 for the first time at number 18. His best performance of the year however, was reaching the semifinals of his first ever French Open, where he lost to the eventual champion Gustavo Kuerten in five sets, 5–7, 6–4, 6–2, 4–6, 3–6. He reached the semi-finals of 2000 Paris Masters losing to eventual champion Marat Safin 2–6, 2–6. He also helped Spain win the Davis Cup winning all his 5 matches producing a 5–0 record that year in the Davis Cup. Although he did not win any titles in 2000, his significant performances in major tournaments helped him end the year ranked world number 12.
In 2003, Ferrero started the year by reaching the finals in Sydney losing to Hyung-Taik Lee 6–4, 6–7(6), 6–7(4). He then reached the quarterfinals of the 2003 Australian Open losing to Wayne Ferreira 6–7(4), 6–7(5), 1–6. He won his first title of the year at the 2003 Monte Carlo Masters which he defended by defeating Guillermo Coria 6–2, 6–2. In his hext four tournaments, he reached the semifinals of Barcelona losing to Marat Safin 4–6, 3–6 and the semifinals at the 2003 Rome Masters losing to Roger Federer 4–6, 2–4 RET. He also won 2003 Open de Tenis Comunidad Valenciana defeating Christophe Rochus 6–2, 6–4 without losing a set. He then won his first Grand Slam at the 2003 French Open defeating Martin Verkerk 6–1, 6–3, 6–2 in the finals. He then reached the 4th Round of Wimbledon losing to Sébastien Grosjean 2–6, 6–4, 6–7(2), 6–7(3). He also went on to reach the final of the 2003 US Open, eliminating former World #1s and former U.S. Open champions Lleyton Hewitt and Andre Agassi before losing to Andy Roddick 3–6, 6–7(2), 3–6 in the final. This result saw Ferrero take the number 1 spot from Agassi. He then competed in Bangkok for the first time as world no. 1 losing to Taylor Dent in the finals 3–6, 6–7(5). He took his last title in 6 years in the Madrid his first hard court Masters title by defeating Nicolás Massú 6–3, 6–4, 6–3 in the finals. He was presented with a "National Sportsman of the Year" award from King Juan Carlos. He ended the year ranked World No. 3, behind only Andy Roddick and Roger Federer. In 2006 Ferrero performance was mediocre reachind One semi-finals in Buenos Aires lost to Carlos Moyá 6–3, 6–7(3), 4–6 and one finals in Cincinnati. During the 2006 Western & Southern Financial Group Masters event in Cincinnati, Ferrero notched his first Top 10 win of 2006 with a 6–2, 6–4 win over US #1 and World No. 5 player James Blake. A few days later, Ferrero defeated World No. 2 Rafael Nadal 7–6(2), 7–6(3) and then World No. 7 Tommy Robredo 6–3, 6–4 to move into the final of an ATP Masters Series event for the first time since 2003. In the final, Ferrero lost to Andy Roddick 6–3, 6–4, to whom he also lost in the 2003 US Open. He ended the year ranked no. 23. In 2007, Ferrero reached the final of the Brasil Open, where he lost to Guillermo Cañas 6–7(4), 2–6. The semifinals of the Abierto Mexicano TELCEL tournament in Acapulco, Mexico, where he lost to Carlos Moyà 6–2, 2–6, 3–6, the semifinals of the 2007 Monte Carlo Masters losing to Roger Federer 3–6, 4–6 and the semifinals in Vienna lost to Stanislas Wawrinka 5–7, 1–6. At the Australian Open, Ferrero lost in the second round to Danai Udomchoke of Thailand. He was eliminated during the round robin portion of the Copa Telemex tournament in Buenos Aires, Argentina and the first round of the Heineken Open in Auckland, New Zealand. He managed to reach the quarterfinals of Wimbledon losing 7–6(2), 3–6, 6–1, 6–3 to Roger Federer. Ferrero never reproduced his 2003 form at this year's French Open, losing in the third round to Mikhail Youzhny 6–7, 7–6, 6–2, 6–2. He lost at the 2007 US Open to Feliciano López in the first round. He ended the year ranked no. 24. Ferrero started 2008 by reaching the final of the Heineken Open in Auckland, New Zealand and defeating David Nalbandian 6–1, 6–2, 6–3 to advance to the fourth round of the Australian Open. After the Australian Open, Ferrero suffered early losses to Nicolas Mahut at the Open 13 in Marseille and at the ABN AMRO World Tennis Tournament in Rotterdam to Teymuraz Gabashvili. Following these two losses, Ferrero then lost to Andy Roddick in Dubai, 6–2, 6–4. He made a fourth round appearance at the Pacific Life Open, but Nalbandian defeated him 6–2, 6–2. At the Sony Ericsson Open, Ferrero lost to Tomáš Berdych in the third round. He lost to Marat Safin in three sets at the Open de Tenis Comunidad Valenciana in the first round. At the Monte Carlo Masters, showings still were mediocre for the Spaniard, as he lost to Rafael Nadal 6–4, 6–1.
In March 2009, Ferrero captured his first singles title since 2003 by defeating 5th-seeded Florent Serra 6–4, 7–5 in the final of the 2009 Grand Prix Hassan II in Casablanca, Morocco.[5] He however had early losses in rest of the claycourt season. He lost in first round of the 2009 Barcelona Open Banco Sabadell, failed to qualify in Rome, and second round losts in 2009 Estoril Open, 2009 Mutua Madrileña Madrid Open and the 2009 French Open. However Ferrero's resurgence came in the grass courts, as he reached the semi-finals of the 2009 AEGON Championships losing to Andy Murray 2–6, 4–6, and the quarter-finals of Wimbledon defeating 10th seed Fernando González in the third round 4–6, 7–5, 6–4, 4–6, 6–4 in a match that lasted about 3 hours and 7th seed Gilles Simon in the Fourth Round 7–6(4), 6–3, 6–2, before losing to Andy Murray 5–7, 3–6, 2–6. These performances saw him climb from 90 to 37 in a month. He then reached the finals of the 2009 ATP Studena Croatia Open Umag losing to Nikolay Davydenko 3–6, 0–6. At the Legg Mason Tennis Classic, Ferrero advanced to the third round before losing to Tommy Haas 7–5, 2–6, 6–1 [6] after beating Tommy Robredo 6–3, 6–2. He then competed at the 2009 Rogers Cup where he needed to qualify to compete in the main draw despite his high ranking. He defeated Lleyton Hewitt in the first round 6–1, 6–4 ending Hewitt's 3 match win streak against the Spaniard. He then defeated 13th seed Gaël Monfils 6–3 7–6(7)[7] in the pairs first meeting before losing to Andy Murray once again 6–1 6–3. He then lost in the first round of the 2009 Cincinnati Masters to Marin Čilić 6–3, 6–4. At the 2009 US Open he defeated Fabrice Santoro in Santoro's last US Open match in the first round. In the 2nd round against Philipp Petzschner, Ferrero mounted a remarkable comeback from two sets down for the third time in his career to win 1–6 3–6 6–4 6–2 6–4. he then went on to defeat no. 9 seed Gilles Simon 1–6 6–4 7–6(5) 1–0 ret and had been defeated in 4th round by Juan Martín del Potro. On ranking issue date October 5, Ferrero climbed imnpressively into the top 20, having been ranked 115 just 5 months before. In his first tournament after the US Open at the 2009 China Open he lost to Fernando Verdasco 7–5 6–4 in the second round after defeating Nicolás Almagro 7–5 7–6(3). He then competed in 2009 Shanghai ATP Masters 1000 were he missed being seeded by one rank, he was then crushed in the first round by 13th seed Radek Štěpánek 6–3 6–0 winning only 7 points in the second set. He the lost in the first round of 2009 If Stockholm Open to Marcos Baghdatis 6–4 6–2. He thencompeted in the 2009 Valencia Open 500 however he lost to Pablo Cuevas in a 3 set battle 2–6 7–6(4) 6–3, after serving for the set at 5–3 on the second set. He ended the year at no. 23, which was 32 spots higher than the previous year and won his first title in 6 years.
In the 2010 Monte-Carlo Rolex Masters he defeated Marcel Granollers 6–0, 6–3 and Benjamin Becker 6–3, 6–4. After defeating the German, Ferrero upset Jo-Wilfried Tsonga 6–1, 3–6, 7–5 earning his first victory over the Frenchman. He however lost to Rafael Nadal 6–4, 6–2 in the quarter-finals. In the 2010 Barcelona Open Banco Sabadell, Ferrero was upset by Thiemo de Bakker in the third round due to not playing well in the tie-breaks 7–6(2), 3–6, 7–6(4). At the 2010 Internazionali BNL d'Italia, his form worsened as he surprising slumped to a 0–6, 3–6 loss to qualifier Santiago Giraldo in the first round. Ferrero went into the 2010 French Open seeded 16 and tipped by some to make a good run in the tournament, he defeated Pablo Cuevas of Uruguay in the first round 6-4, 6-3, 6-1. He then met fellow Spaniard Pere Riba in the second round where he won in 4 sets 7-6, 6-7, 6-2, 6-2. However he was upset in the third round by unseeded American Robby Ginepri, after coming back from a two set deficit and being a break of serve up in the decider, Ferrero lost in the fifth set with a final score of 7-5, 6-3, 3-6, 2-6, 6-4. He may have been seen to have underachieved in the tournament but did improve on his previous years performance and did therefore improve his ranking points. At the 2010 Gerry Weber Open his form continues to go down as he lost to a Lucky Loser Dominik Meffert in the first round 6-3, 7-5. His bad form continues as he loses Xavier Malisse in the first round of Wimbledon 2010 in five sets. He is now 9-8 since his good run at the South American Clay season. He then played at the 2010 MercedesCup losing to Albert Montañés for the first time in 6 meetings in the semifinals 6-3, 7-6(6) despite having 2 set points in the second set tiebreak. At the 2010 International German Open, Ferrero defeated Jan Hájek and Jarkko Nieminen before being upset by Florian Mayer 6-7(3), 6-2, 6-3 for the first time in 5 meetings. At the 2010 ATP Studena Croatia Open Umag, Ferrero won his third title of the year where he struggled against Pablo Cuevas with a 4-6, 6-4, 6-4, but cruised through against Alexandr Dolgopolov, Andreas Seppi and Potito Starace in the finals. He then missed the 2010 Rogers Cup and 2010 Western & Southern Financial Group Masters due to a knee injury. He then returned in the 2010 US Open where he defeated Martin Kližan and Ricardo Mello in straight sets but lost to Jürgen Melzer in the third. He is now bound to miss the rest of the season due to a knee and wrist injuries.
Ferrero withdrew in the first part of the year at the 2011 Heineken Open and 2011 Australian Open. As the defending champion he withdrew from the 2011 Brasil Open and 2011 Copa Claro. He also withdrew from the 2011 Abierto Mexicano Telcel and 2011 BNP Paribas Open. To recover from his wrist and knee surgery.Ferrero made his David Cup debut for Spain in the quarter-finals match-up against Russia in 2000 where he won both his matches against Yevgeny Kafelnikov and Marat Safin which he both defeated in straight sets. He also played in the semi-finals this time against the American Vince Spadea were he won in three 4–6 6–1 6–4. His impressive Davis Cup form continued when he defeated Australians Patrick Rafter and Lleyton Hewitt in Barcelona, enabling Spain to capture the Davis Cup for the very first time. At 2001 Spain fell to Netherlands werte Ferrero lost his first match at the Davis Cup against Raemon Sluiter losing two tie-breakers and winning one. He however made up for this lost when Spain needed to compete in the qualifying rounds for the Davis Cup World Group when defeated Oleg Ogorodov of Uzbekistan in straight sets. Ferrero continued to be a key Davis Cup player in subsequent years. In both 2003 and 2004, Ferrero contributed to Spain's successive progress to Davis Cup final. In 2004, Spain won the Davis Cup for the second time. In 2009, Ferrero won the 5th decisive rubber against Andreas Beck of Germany, 6–4 6–4 6–4 in the Davis Cup quarterfinals, hence, putting Spain through to the semifinal. Again in the quarterfinals, Ferrero won the second live rubber against Israel 6–4 6–2 6–0- putting Spain on track to win the Davis Cup for two years consecutively—the first nation to succeed that in 11 years (last one was Sweden in 1998). As Nadal returned from injury to play the final for Spain, Ferrero was not selected to Spain's final squad team. Unfortunately for Ferrero, although he has contributed significantly to Spain's successful reclaim of Davis Cup in 2009, and he attended all the live rubbers to support his teammates during the first two days of Davis Cup final, but, as reserve only during the final, he was not included at the 2009 Davis Cup presentation ceremony and celebrations on the final day.
Juan Carlos Ferrer performance at field
Juan Carlos Ferrer and his trophy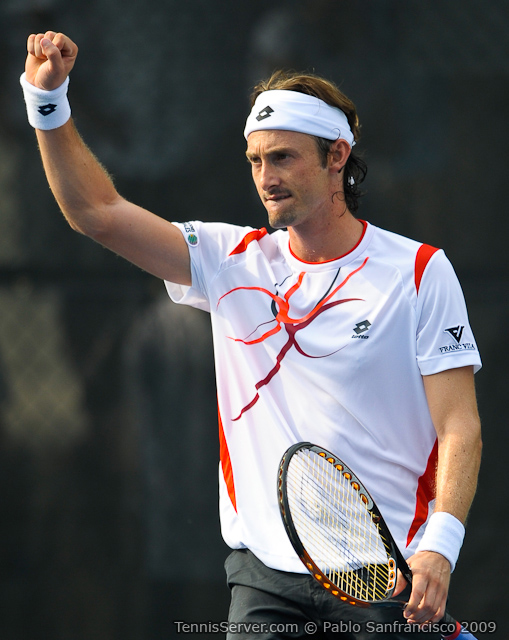 Juan Carlos Ferrer before playing