Pádraig Harrington (born 31 August 1971) is an Irish professional golfer. He has won three major championships: The Open Championship in 2007 and 2008 and the PGA Championship, also in 2008. Harrington was born in Ballyroan, Dublin, Ireland, the youngest of five sons of Patrick and Breda Harrington. His father, "Paddy" (1933–2005), a Garda (Irish police officer) who played Gaelic football for Cork in the 1950s, was also a boxer and hurler, and played to a five handicap in golf. The Ballyroan Parish is located in Rathfarnham, a middle class area in Dublin's Southside and the birth place of two other touring professional golfers - Paul McGinley and Peter Lawrie. Harrington attended local secondary school Coláiste Éanna at the same time, but not in the same year/class, as McGinley, giving it the unique distinction of having produced two Ryder Cup golfers. Coached by Joseph McGinley, a golf enthusiast in the school, and Mark Hynes, local professional and first caddie, Harrington's interest and passion for the game grew, as the pair recorded their first victory together, in Stackstown G.C. After a successful amateur career, including winning the Walker Cup with the Great Britain & Ireland team in 1995, Harrington turned professional later that year, joining the European Tour in 1996. Harrington came to professional golf at a relatively late age, having studied accountancy at university; he worked in that profession for a number of years while playing high-standard amateur golf. He was unsure whether to turn professional, initially doubting his skills.
His first victory came quickly, in the 1996 Peugeot Spanish Open. But for the next few years, the most remarkable thing about his career was the number of times he finished second in European Tour events without ever bettering that position, including four second places in five events in late 1999. However, in 2000 he discovered a winning touch, and he had at least one win on the European Tour each year from then up to 2004. He has finished in the top ten on the European Tour's Order of Merit seven times, including second places in 2001 and 2002 and third places in 2003 and 2004 and eventually won the Order of Merit in 2006. Harrington won the European Tour Golfer of the Year award in 2007 and 2008. Harrington's 2006 European Order of Merit win came after a titanic battle with Paul Casey and David Howell, which was won on the last hole of the last event. Sergio García bogeyed the 72nd hole in the season ending Volvo Masters to give Harrington a share of second place which earned him enough money to leapfrog Paul Casey to 1st place on the Order of Merit. From around 2000, Harrington appeared with increasing frequency in the U.S. at the majors and World Golf Championships events, and as a sponsor's invitee. He won his first professional event in the U.S. at the Target World Challenge, a non-PGA Tour event hosted by Tiger Woods in 2002. In both 2003 and 2004 he was the runner up in the Players Championship, and in the latter year he won enough money on the PGA Tour as a non-member to earn an invitation to the end of season Tour Championship. He took membership of the PGA Tour in 2005 and in March he won his first PGA Tour official money event at the Honda Classic, where he beat Vijay Singh and Joe Ogilvie in a sudden-death playoff. In late June, Harrington snatched the Barclays Classic from Jim Furyk with a spectacular 65-foot eagle putt on the final hole for his second PGA Tour win. Two weeks later his father died from esophageal cancer on 11 July, the Monday night preceding the 2005 Open Championship, forcing Harrington's withdrawal. Harrington has spent a considerable amount of time both in the top ten of the Official World Golf Rankings (over 300 weeks between 2001 and 2010) and achieved his best ranking of third following his second Open Championship victory. He has also played for Europe in six Ryder Cups; losing in 1999 and 2008, but winning in 2002, 2004, 2006 and 2010. He has also won the par-3 contest at Augusta National, held the day before The Masters, in 2003 (tie) and 2004.
At the 2007 Open Championship, Harrington defeated Sergio García in a four-hole playoff at Carnoustie Golf Links, becoming the first Irishman to win The Open Championship in 60 years, and the first ever from the Republic of Ireland. Both players went into the playoff having shot a 7-under 277 for the championship. Harrington subsequently won by one stroke in the playoff. A year later at the 2008 Open Championship, it was unclear if he would get a chance to defend his Open title at Royal Birkdale as eight days prior to the event he injured his wrist. But Harrington successfully defended his title, overcoming a 2-shot deficit to Greg Norman with a final round 69. He shot a four-under-par 32 on the back nine, which enabled him to pull away from Norman and Ian Poulter. His eagle on the par-5 17th all but sealed the tournament. He is the first European golfer since James Braid in 1906 to retain the Claret Jug. The win moved him from fourteenth to third in the world rankings, behind only Tiger Woods and Phil Mickelson.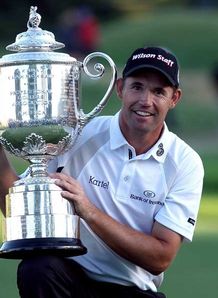 Just three weeks after winning the Open Championship, Harrington won the PGA Championship over the South Course of the Oakland Hills Country Club, for his third major. Although at five over par after two rounds, he shot eight under par for the weekend, carding successive scores of 66 in the third and fourth rounds. His three under par 277 was two shots ahead of Sergio García and Ben Curtis. Harrington became the first European to win the PGA Championship in 78 years (Tommy Armour in 1930), and is the first winner from Ireland. Aside from Tiger Woods, who has won consecutive majors three times (2000, 2002, and 2006), Harrington is the first golfer to win two majors in the same year since Mark O'Meara in 1998 and the first to win consecutive majors in the same year since Nick Price in 1994. Furthermore, aside from Woods, he is the first golfer to win three of six consecutive majors in 25 years, since Tom Watson accomplished the feat in 1983, something that only four other players - Ben Hogan, Arnold Palmer, Jack Nicklaus, and Lee Trevino had previously achieved since the modern "Grand Slam" of four majors began to be recognized in the 1950s. Harrington's victory in the PGA Championship secured his position as the number one player in Europe, earning him the number one spot in the 2008 European Ryder Cup team under captain Nick Faldo. Harrington has known his wife Caroline since childhood. They were married in 1997 and have two sons: Patrick, born in 2003, and Ciarán, born in November 2007. After Harrington's Open win in 2007, Patrick was caught on microphone asking his father if they could 'put ladybirds in it' (referring to the trophy). Following his win in 2008, there were some light-hearted references to this in a subsequent interview, whereupon Harrington suggested that it was more likely that Patrick would now want snails in the trophy. Harrington is a distant cousin of 1995 World Series of Poker champion and author Dan Harrington and NFL quarterback Joey Harrington. Harrington's given name "Pádraig" is the Irish Language version of the name Patrick, which is in common usage in Ireland. His four older brothers have Irish names as well (Tadhg, Columb, Fintan, and Fergal). Harrington's caddy since 2004 is Ronan Flood, who is also his brother-in-law. Flood married Susie Gregan, the sister of Pádraig's wife, in 2007. Flood is also the younger brother of one of Harrington's childhood friends. After leaving school, Harrington mixed amateur golf with studying Accounting. He passed his final exams in 1994 to gain admittance to ACCA (Association of Chartered Certified Accountants).
Padraig Harrington performance at field
Padraig Harrington hug his trophy
Padraig Harrington and his trophy
Padraig Harrington cute smile pose